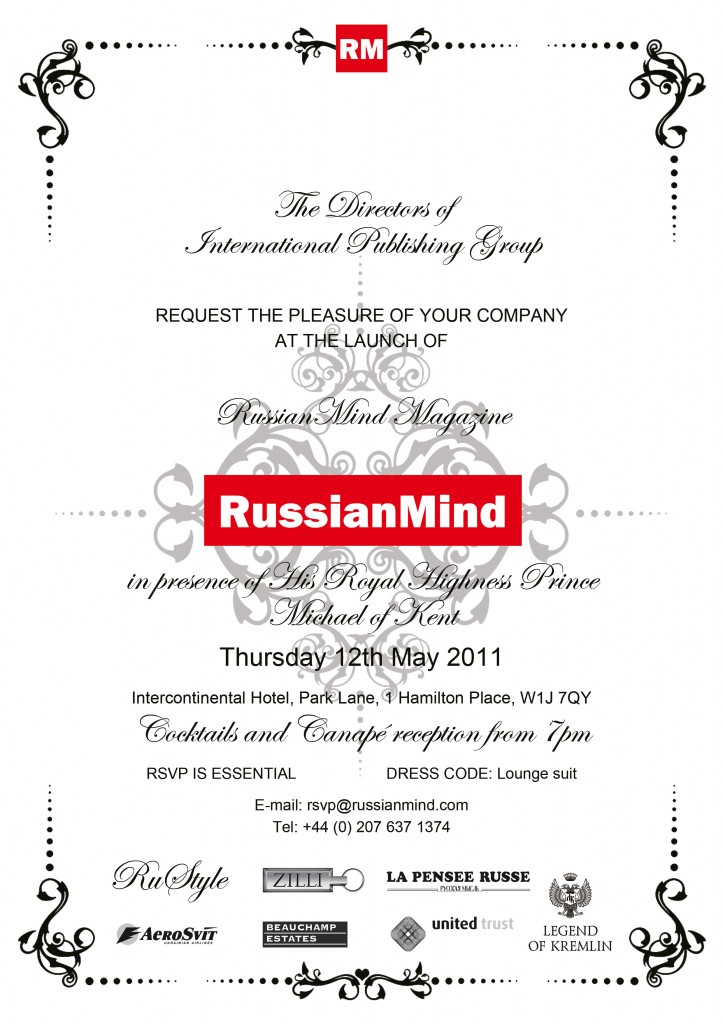 RuStyle with Directors of International Publishing Group had the pleasure of welcoming their guests at the Launch of RussianMind Magazine on Thursday 12th of May 2011.
International Publishing Group (IPGL) is a leading provider of Russian-language news and information with a history stretching back to the 19th century. IPGL currently owns a portfolio of media properties including weekly Russkaya Mysl (in Russian), monthly La Pensee Russe (in French), fortnightly RussianMind (in English) magazines, as well as weekly Info chain newspapers in major European cities: London, Moscow and St. Petersburg.
Proceedings commenced with a speech of Managing Director (IPGL), and Ms Alina Blinova, Deputy Managing Director (IPGL).
It attracted guests from different industries: luxury and lifestyle, travel, finance, real estate, education, hotels and many more.
Please visit the photo gallery on RussianMind.com to see your pictures taken at the event: http://russianmind.com/content/viva-russian-mind
It will take few seconds to download the Flash Galary. Sorry for keeping you waiting.
photography by Alla Sanders:
[flagallery gid=41 name="Gallery" skin=default]