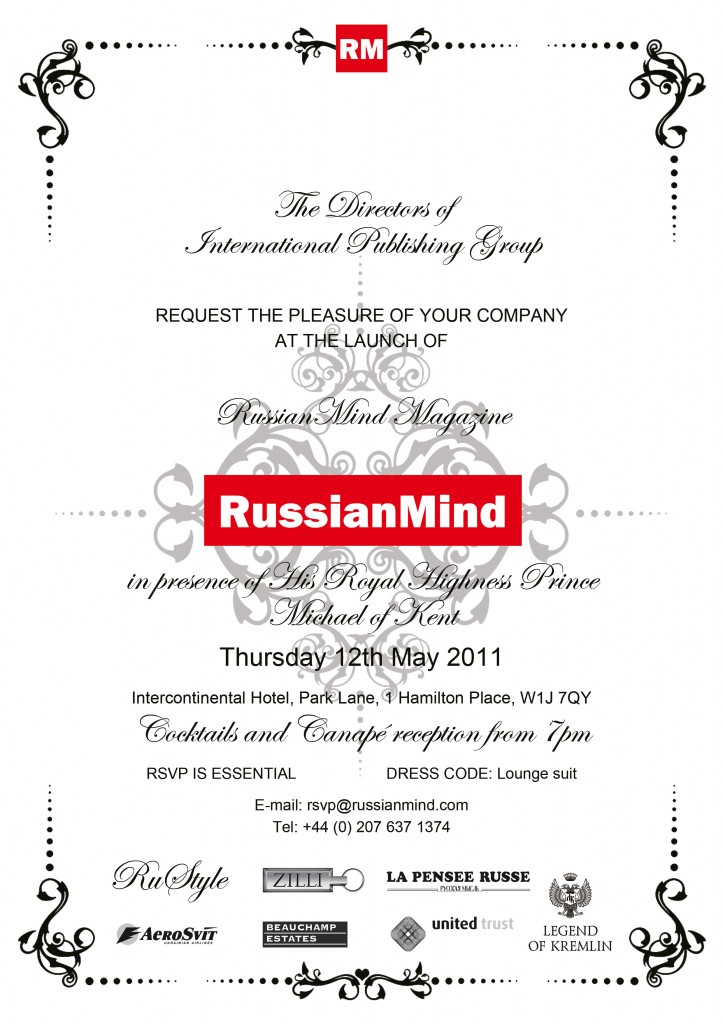 RuStyle with Directors of International Publishing Group request the pleasure of your company at the Launch of RussianMind Magazine.
International Publishing Group (IPGL) is a leading provider of Russian-language news and information with a history stretching back to the 19th century. IPGL currently owns a portfolio of media properties including weekly Russkaya Mysl (in Russian), monthly La Pensee Russe (in French), fortnightly RussianMind (in English) magazines, as well as weekly Info chain newspapers in major European cities: London, Moscow and St. Petersburg.
Thursday 12th of May 2011

Intercontinental Hotel– Ballroom, 1 Hamilton Place, Park Lane, London, W1J 7QY.
Drinks and Canape reception 7pm
RSVP is Essential GUEST LIST ONLY (please bring printed version of invitation with you):
rsvp@russianmind.com
T: +44 (0) 207 637 1374
DRESS CODE: Lounge Suite
Proceedings shall commence with a speech of Head of the Editorial Board of the RussianMind magazine; Mr Azamat Sultanov, Managing Director of International Publishing Group Limited, and Ms Alina Blinova, Director of the Project. Expected to attend are A-listed guests, Ambassadors and diplomats, politicians, businessmen and friends
It will take few seconds to download the Flash Galary. Sorry for keeping you waiting.
photography by Alla Sanders:
[flagallery gid=41 name="Gallery" skin=default]