Russian Ball in Vienna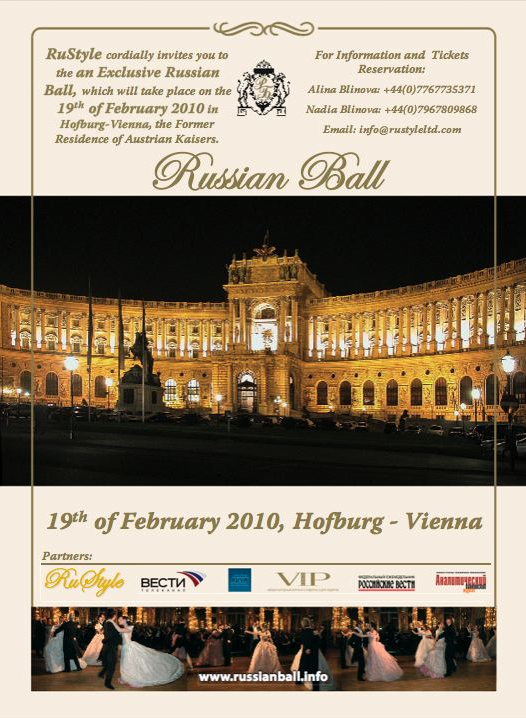 RuStyle would like to take this opportunity and cordially invites you, your colleagues and friends to an Exclusive Russian Ball in Hofburg, Vienna. Hofburg is the Former Residence of Austrian Kaisers.
The next Russian Ball will take place on the 19th February 2010, and its motto will be "Diamond Garland".
The whole constellation of names that are known all over the world and are pride of Russia will be present. That constellation will be presented at the Ball and they are musicians, cultural workers, politicians, businessmen.
The guests of the Ball will take a unique opportunity of both strengthening fully formed contacts and starting the new ones in the natural environment of a society event.
"The Ceremonial Hall" of the Hofburg Palace can hold two hundred persons allowing for seats at the tables during gala-supper.
RuStyle is inviting all people caring for Russian's international reputation, to support a new stage of the cultural project "Russian Ball", thus having proved their own active vital position at those uneasy for everybody times.
Please see the video of the 3rd Russian Ball in 2009 below:
http://www.youtube.com/watch?v=RLKnQqMQXXI
While visiting Vienna for the Russian Ball, you should endulge yourself in a once in a life time experience: commissioned musical composition based on the your personal Archetype Music.
For more Information, Tickets Reservation and Sponsorship Packages please contact us directly:
Email: info@rustyleltd.com