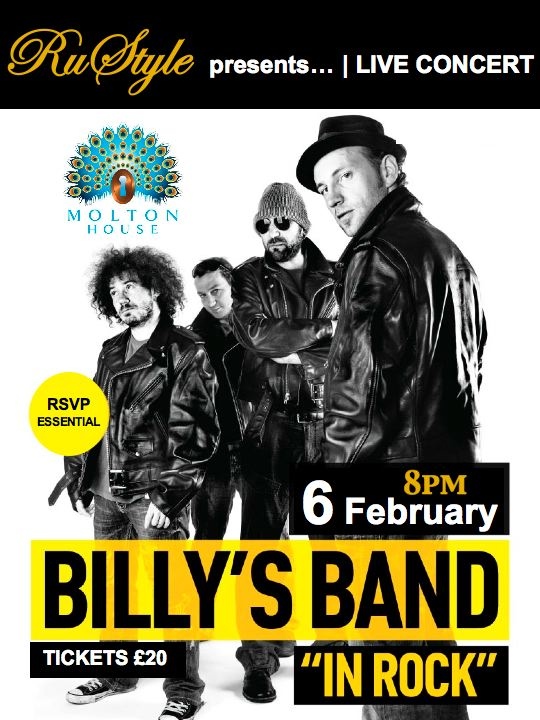 RuStyle would like to take this opportunity and cordially invites you, your colleagues and friends to an Exclusive Jazz and Blues event with Legendary Russian Jazz music presented by Billy's Band.
The seductive journey will start on Saturday 6th February at the Best Members club – Molton House from 8pm and followed by Live concert from 9pm to 10.30pm. After Party with the band till 3.30am with
DJ Jarren C and DJ Simon Lawrence.
The Billy's Band – influenced-romantic-alco-jazz-quartet from St. Petersburg, Russia hits the road to the USA. They presented their stunning shows in New-York, Washington and San-Francisco. Inimitable and unusual, nominated The Best Club Group and Burst-In; welcomed soundtrack creators, the authors of 8 top-notch albums and regular participants of various Russian and European music festivals The Billy's Band have already conquered the heart of Russian, Italian, German, French, Finish, Israeli, Estonian and American public.
http://www.billysband.ru/eng/music.htm
Their music is a perfect English-Russian cocktail of jazz and blues, Slavonic Lieds, rock ballads and sporadic beats of an enigmatic Russian soul. The lead singer/bassist Billy Novik has a voice that can only be compared to Louis Armstrong.
http://www.youtube.com/watch?v=n7PQcnb1Fr8
RSVP ESSENTIALE: info@rustyleltd.com
Tickets £20 in advance online or at the door
We are highly recommend you to book in advance to avoid disappointment. Please follow the link and enter your exclusive code: http://moltonhouse.com/events Code "Rustyle"
Treat yourself with an unforgettable night!
Address of the venue:
43 South Molton Street, London, W1K 5RS