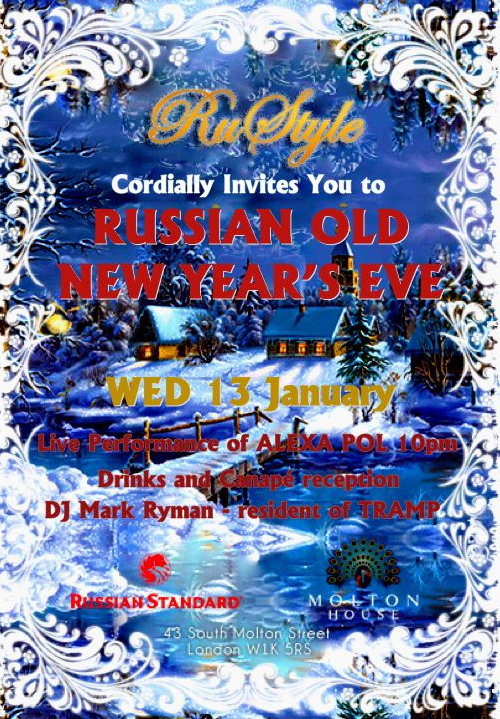 RuStyle would like to take this opportunity and cordially invites you, your colleagues and friends to a unique chance to celebrate the Russian Old New Year on Wednesday 13th January at the Best Members club.
Molton House has a sense of Russian Style, which is infused throughout the venue.
The Old New Year or the Orthodox New Year / Pravoslavna nova godina is an informal traditional holiday, celebrated as the start of the year by the Julian calendar.
The event will begin at 9pm followed by the seductive journey of luxury and style with authentic Russian food, Drinks and Music reception in the company of Alexa Pol. http://www.alexapol.com
Alexa Pol – singer – songwriter. In December 2008 she won international "Breakout festival" out of 250 British bands and represented Britain in Maldives "Breakout festival". In 2009 Alexa released a video for her single "It..s all a joke" – directed by Guy Holloway.
Resident of Tramp – Mark Ryman will be DJ on the night.
RSVP is Essential
Email: info@rustyleltd.com
Treat yourself with an unforgettable night!
Address of the venue:
43 South Molton Street, London, W1K 5RS